Yarn – ¼ skein-ish Red Heart
Colorway – uummmm . . . blue
Crochet hook – size 5 or 6
3 cans
1 green 2-liter bottle
Cut 5 can panels measuring 3½" x 2¼". Then cut one in half so you end up with 6.
Punch holes and trim all sides with Double Crochet edging.
Cut the visor from the 2-liter bottle. It should measure 7" x 4½"*. See photo for approximate shaping. You can see that the longest edges are pretty straight and curve towards the ends. (*note - You may want to make it less than 4½", it sticks out pretty far. I think you can lose an inch and have it a little less cumbersome. Or make it longer and watch the size of your personal space increase!)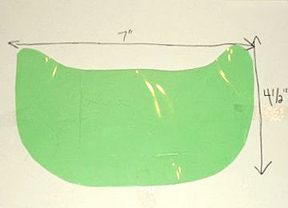 Punch holes and DC all around.
Seam together all 6 panels into a single strip so that the 2 short ones are at either end. DO NOT connect them into a circular hat band unless you are making this for someone with a small head. Instead, we're going to add an adjustable strap so everyone, even those with huge noggins, can enjoy its magnificence.
Once the panels are attached, seam the green visor to the to center panels. I seamed them through the front loops to try to make the visor stick out rather than flop down. It seemed to work because stick out it does.
Now you need to make the adjustable closure strap thingy.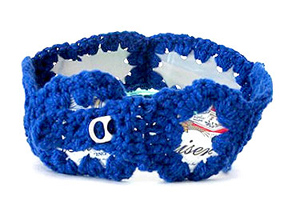 DC a row on the end of one of the short panels (about 8 stitches – not quite the width of the panel).
DC 2 more rows, decreasing one at the beginning and end of each row. You should have 4 stitches.
On the next row, decrease one in the middle of the row so you have 3 stitches.
DC 2 more rows with no decreasing. Bind off.
Sew the pop-top tab from one of the cans to edge of the other short panel. Just use yarn and the tapestry needle, sewing the very top of the opening into one of the holes punched into the can. You want to have as much of the pop-top available to poke through the flap, so don't over-sew it. Give the pop-top a little bend inwards to keep it from sliding out. There are no official "button holes", but, you know, it's a double crochet, so just poke the tab through whatever holes makes this bad boy fit.
I haven't walked around town in this, so I don't know just how sturdy the pop top will be. If it keeps sliding off, slap a button on there instead. Or maybe even make a bottle cap into a button!