And it rocked! I didn't bring a camera, but there are plenty of photos floating around the internets. Besides, it's kind of tough to document girlish glee.
My travel mates, Melanie and Kellee were the best. We worked out sort of an unspoken system of parting and regrouping throughout the day. Rather than lingering or rushing, we pretty much moved at our own paces, but managed to come together after just about every yarn barn. It was like a little dance. Cell phones also helped immensely.
We headed out on Friday morning. Kellee drove her little turbo-charged rocket car and it was nice to just be a passenger for a change. When I work in the office (3-4 times a week), I have about an hour drive each way. The upside of this is that the drive to NY seemed to take no time. This was due in large part to my delightful companions, but also because I'm a slave to the Mass Pike and its wanton toll-collecting ways.
We made sure to leave early because we wanted to make a pit stop on the way to the great Empire state. It just so happens that Webs is conveniently located between Point A and Point B, so it would have been inconsiderate of us not to stop by and peruse their offerings. Having never experienced Webs in person, I was anxious to get there. Upon arrival, we headed straight for the bathroom. They have a little sofa in there. I love that. It made me want to sit and knit in the can for a while. This was the first of many bathroom visits. Between Melanie's wombmates and my thimble-sized bladder, toilet-trekking made up a considerable amount of our weekend activities. Once we checked that off the list of things to do, we roamed Webs' vast warehouse. My brain had a tough time processing the endless rows of coned yarn at first. It's a bit much, so I just petted the chenille for a while. But once I got my bearings, it was a feast for the fingertips. There were all kinds of fiber, from scratchy rug wool to smooth-as-silk . . . well, silk. There was even a shelf of coned tinsel in an array of Barbie doll colors. For a moment, I wondered if a tinsel afghan would be a reasonable project to embark upon, and then I thought of Dot wandering around with a two-foot-long metallic rainbow trailing behind her. Although the other cats would probably enjoy their new living cat toy immensely, I thought better of it and eventually settled on this collection of goodies: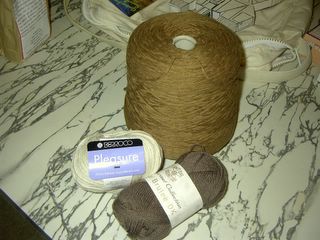 The cone is some sort of cotton/poly ribbons stuff that I'm going to use for Nuthin' but a T-shirt. I also got some of Web's house brand superwash called CrĬme Brulee. I got enough for some kind of sweater, but I don't know which yet. I also couldn't pass up the super-soft Berrocco Pleasure that was on close-out. I would have if they hadn't provided a knitted sample to lure me in. I got enough for a scarf and I just need to find a pattern for something knit on a diagonal. That's what they had knit for the sample and it was very plain, but quite fetching. And sort of French, in a way.
I also found some squatters living among this year's selection of knitting magazines. These little stowaways were huddled in the corner together, no doubt doing their best to go unnoticed. But my eyes are trained to catch even the slightest hint of an outdated hairdo or the twinkle of a clown's glittering nose. So I plucked these survivors of the Great Pattern Purge of Nineteen and Ninety-Two from their hidey-holes and took them home where they could be mocked (and MOKSed) properly.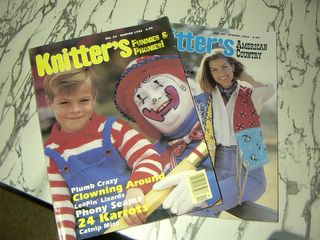 We also had the pleasure of meeting two fellow knit bloggers who were slaving away behind the cash registers. Imagine, we hadn't even hit Rhinebeck yet, and already the bloggers were springing up! They were sweet as pie (like strawberry rhubarb or chocolate cream, not some nasty mincemeat) and wrapped up our shopping spree just perfectly. One was the SPARKnits, who immediately appreciated those knitting magazines for their unapologetic awfulness. The other gal recognized Melanie's sweater as a Rogue as soon as we walked in, which I thought was so cool. Of course, I can't for the life of me remember her blog name. I do know it's on LiveJournal, but she's making the switch to Blogspot soon. Damn. If you're her and you read this, can you put your blog name in the comments? Pleeease?
Once we had spent a good portion of our yarn budgets before even leaving the state, we pressed on and headed for the promised land of Sheep and Wool.
Stay tuned! I will continue tomorrow and give you the scoop on the rest of the weekend, washed-out bridges and all!
Oh, I'm also going to do my darndest to make it here tonight. Anyone else?